IT all began with creak spray. 
You know, creak spray. It's the stuff that old hotels use to make their floorboards sound even older than they really are….don't they?
Okay so of course they don't.
But convincing my two that stuff really existed was quite a breeze. For our sojourn for the night was the beautiful Mercure Shakespeare Hotel in the heart of Stratford-upon-Avon.

This black and white timbered frontage, which stands a stone's throw from the New Place where the Shakespeare Big Dig is taking place, is a cosy four star establishment and is as pretty as a picture.
Our family room was also cosy, thanks to the sofa bed and camp bed already laid out in the small "lounge" area, and it had the creakiest floorboards I have ever encountered. I feared for the sanity of the people on the floor below as we gingerly walked around.
"Why are the floors so squeaky?" asked the elder of the two.
It was, I said earnestly, because the place was very old. But because there are many tourists who come to Stratford expecting ancient things, the management had to apply creak spray to the floorboards for authenticity.
"Woah," they two of them chorused. "That's amazing."
This comedy of errors became the main topic of conversation for our Shakespeare-themed weekend.
After our buffet breakfast (I love a hotel breakfast) of fruit, pastries, good, strong coffee and a selection from the hot plates, we were ready to learn about the Bard and his associates.
Can youngsters really get excited about Shakespeare, I wondered? At 11 and eight, I wondered if they weren't going to be enthralled by it all. Thankfully, my worries were much ado about nothing.
At Shakespeare's Birthplace, they were intrigued by the famous autographs etched onto the window (Charles Darwin, Sir Walter Scott, Keats) and by the bedroom – particularly why the colours red and green were used in the fabric (it was something to do with keeping you safe from fairies and the devil). They even liked the gardens and made helpful suggestions on how we could improve our own back yard by introducing a cottage theme!
I wonder if their love of Horrible Histories had anything to do with their interest. Since they discovered these Terry Deary wonders, they seem genuinely interested in the past. This was evident when we went to the New Place, just a couple of doors away from our hotel.
Here is where the Dig for Shakespeare experience is taking place. Although the original house no longer exists – it was demolished by the owner Reverend Francis Gastrell in 1759 because he was sick of visitors wanting to look at the place where the Bard lived until his death in 1616.
Now, archaeologists from the University of Birmingham are combing the site to learn more about the original house and perhaps find some of Shakespeare's artefacts. Our fascination with the dig was tempered only by a tempest of short-lived but bliblical proportions and the fact that there was little to explain what was happening in the grounds.
Inside, however, was a great room where children could use archaeological tools to dig in sand and find some pottery. They could even leave questions for the archaeologists, who promised to email us the answers (yet to receive them, though).

 By far the most successful parts of the Shakespeare adventure, however, were  Anne Hathaway's Cottage, a short drive from Stratford town centre, and Mary Arden's House in nearby Wilmcote.
The former has stunning gardens, even though they would not have existed when Shakespeare's wife was growing up there, and a delightful woodland trail, while the farm that belonged to the Bard's grandparents was a hive of Tudor activity, with cookery demonstrations and a lovely re-enactment of a handfasting ceremony, an ancient betrothal ceremony.
We'd "done" Shakespeare at breakneck speed – 24 hours in total, lapping up the legacy of the greatest writer and playwright in British history. Was it love's labours lost? Not at all. But for late spring it was more of a winter's tale than a midsummer night's dream.
Fact file
Jayne Howarth and family were guests of the Mercure Shakespeare Hotel, Chapel Street, Stratford-upon-Avon. 01789 294997. There is limited parking, which costs £10 per day.
If you want to visit the Shakespeare properties, it is cheaper to buy the Shakespeare Five House Ticket. A family ticket costs £49 and allows admission to: Shakespeare's Birthplace; Anne Hathaway's Cottage; Mary Arden's Farm; 'Dig for Shakespeare' at New Place; Hall's Croft.
A family Shakespeare Birthplace Ticket, which offers admission to Shakespeare's Birthplace;
'Dig for Shakespeare' at New Place; and Hall's Croft costs £33.50.
For details, visit http://www.shakespeare.org.uk/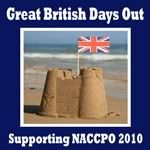 This is one of a series of a Great British Days Out reviews. Reviewers receiving complimentary tickets are asked to make a donation and we also hope readers can support the children's cancer charity  charity,NACCPO. If you enjoy Jayne's review or would just like to support this much-needed charity, please visit our JustGiving page.